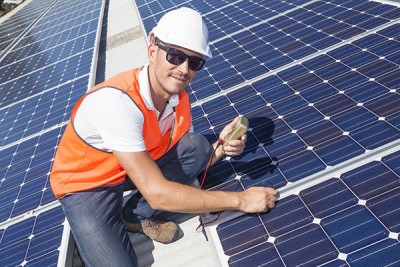 Seeking a driven electrician, engineer or technician for a senior management position. Take a leading role in award-winning, highly qualified team of specialists and coordinate pioneering residential and commercial projects.
Your work will involve coordinating installation department, overseeing large commercial installs of hundreds of kilowatts. You will also have the opportunity to contribute to cutting edge solar projects – including battery systems, stand-alone power, mini-grid connect solar and much more.
Duties & responsibilities:
• Overseeing existing staff of electricians and apprentices.
• Organising and managing large commercial installations.
• Acting as technical nominee for the business.
• Coordinating a network of subcontractors.
• Site inspections and pre-installation inspections.
• Project management and monitoring of projects.
• Ensuring that OH &S requirements on large projects are met.
• Assisting with quoting and tender preparation.
• Some hands on work will be required
Key attributes required:
• Experience and good knowledge in solar PV installations.
• Experience with commercial and industrial electrical installations.
• Demonstrated project management experience.
• Demonstrated leadership experience
• Highly motivated with good time management.
• Willingness to learn and better skill base.
• Good attention to detail.
• Passionate about solar energy.
You need the following:
• CEC Solar Accreditation in design and installation.
• Drivers licence.
• Working at heights ticket, white card.
• Off GRid certification essential.
Please note that only shortlisted candidates will be contacted.
Initial interviews will be held over Skype.