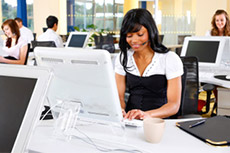 Working in Melbourne CBD, we are seeking an organised and efficient Administrative & Logistics Assistant. This is an office-based role where majority of the communication with clients and other stakeholders is via email and telephone.
In addition to the requirements below, this position primarily consists of 80% logistics and 20% ad-hoc administrative duties.
Your responsibilities will include, but may not be limited to:
Effectively communicating with our international clients, suppliers, banks, and shipping companies, via email and telephone on a daily basis.
Scheduling, managing and tracking international shipments with suppliers and shipping companies.
Creating documents including but not limited to invoices, sales contracts and detailed shipping documents
Managing and tracking documents sent to clients via Australia Post, TNT and DHL courier services.
Maintaining and updating our CRM systems.
Providing exceptional customer service to both internal and external stakeholders.
Personal Assistance to Senior Management and administration support as required.
You will ideally have:
Highly developed computer skills with advanced skills in MS Office, especially Excel.
Demonstrated knowledge of administrative processes and databases.
An ability to collate, format and present information in a simple, clear, and accurate manner.
Initiative and the ability to problem solve.
High attention to detail, exceptional grammar and spelling skills are essential, especially when creating and checking documents.
The ability to work independently but also as part of a dynamic and collaborative team.
Excellent organizational and time management skills with the ability to meet deadlines.
You must have an ability to multitask and have excellent communication skills
Prior experience in a logistics role is ideal but not necessary
Minimum 1-2 years experience in an administration and/or logistics role.
In return, we offer:
Career development opportunities and training.
Great management and team support.
A modern office in the heart of the Melbourne CBD with easy to access to transport and shops.
A culture and working environment that celebrates hard work and rewards success.
If you feel that this opportunity is right for you, then APPLY TODAY!