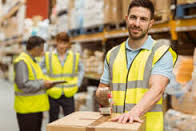 A wholesale safety supplies business operating throughout Australia & NZ are looking for an
internal sales/warehouse candidate with excellent attention to detail for full-time role.
The role is primarily warehouse pick and pack but after a few months responsibilities will also encompass some customer service related tasks as well, such as interacting with customers via phone & email, helping with product/pricing enquiries, freight information, order lead-times etc
Full-time 37.5 hour work week, starting salary $40-45k (+ super) depending on age and experience. No experience is required as everything can be taught quite quickly, although some warehouse experience that would be a plus.
The main qualities we're looking for are attention to detail, good communication skills and a cultural fit for the company. An employee who is looking to develop their role over a few years, starting in the warehouse but who is keen and eager to learn more and make a career would be ideal.
It would be an immediate start for the successful applicant
Initial interviews will be held over Skype.