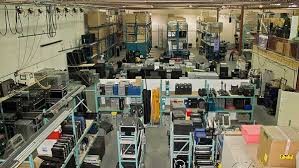 An industry leading motion picture lighting rental company, provide lighting and gripping equipment to productions in Melbourne, as well as sending out vehicles for shoots with in-house lighting technicians.
The team is hardworking and pride themselves on quality, professionalism, and providing a premium service to customers.
We're after a part time warehouse coordinator to join the growing team. Able and willing to work full time flexibly, 6 hours one day / 10 hours the next in bad scenarios (This shouldn't happen too often)
A young company running an efficient and well organised operation and the work carried out by warehouse staff is integral to our business.
While not essential, it is preferable that you will have experience within the film industry and have a knowledge of the industry terminology as well as names and functions of different pieces of equipment we stock.
Your primary jobs are to coordinate incoming and outgoing gear for hires, order replacement parts and organise repairs, as well as oversee the preparation of vehicles for shoots.
Procedures and operations are still being established so you will have the freedom to experiment and create processes to suit the way you work as we move towards a technology driven system.
Other tasks include:
• Taking phone, email, and in person enquiries from customers
• Demonstrate the use of gear to customers
• Undertake gear tests to ensure working kits are sent on hires
• Report damaged equipment
• Report missing equipment
• Maintaining a stock of spare parts
• Ordering replacement parts when required
• Equipment reliability reporting
• Carry out on / off hire equipment inspection reports
• Efficiently coordinating break down repairs to minimise down time
• Demonstrated problem solving skills
• Ability to follow protocols
• Ability to work autonomously as well as possess a team focus
To be selected for this role you must have strong initiative skills, be technically minded, be very thorough, be able to communicate well with staff and customers, and have an eye for quality and detail.
Should have the willingness and ability to learn new items if you are unfamiliar with them.
Will be required to work on set during training period to understand gear items and usage
May be required (If we feel you are capable to do so) to go on set to set up equipment when customers book delivery.