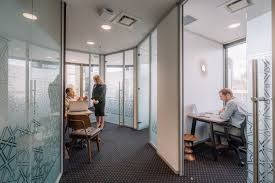 Due to ongoing success and market demand, our client who are an award winning serviced office provider known throughout Australia, are now looking for a Co-Working Site Manager to Manage 2 of their Serviced office locations in Melbourne,  in the heart of the CBD.
As Co-Working Site Manager, you will be responsible for the sales and occupancy of these sites.
Your Co-Working Site Manager duties will include, but may not be limited to:
• Respond to and management of sales enquiries/leads in accordance with guidelines
and KPIs
• Provide direction, instructions and feedback to team members
• Induction and training of team members
• Networking and attendance at a variety of events to generate leads and brand awareness
• Organise and lead monthly networking and client community functions at your location(s)
• Front of house support, reception coverage, etc., when required
• Upsell and cross-sell all  services
• Negotiation of lease renewals
• Generate organic leads from other platforms (e.g. Gumtree)
• Ongoing management of clients throughout their tenancy/leases
SKILLS, KNOWLEDGE & EXPERIENCE:
• Extensive customer service skills and focus
• Sales knowledge, proficiency and achievement of results
• Leadership, management, coaching, delegation
• Organisational and time management skills
• Problem Solving
• Excellent Verbal and Written Communication – including spelling, grammar and attention
to detail
• Respect of all Customers, internal and external
• Honest and trustworthy in all work practices, at all times
• Business friendly and professional approach
PERSONAL ATTRIBUTES:
• Personal leadership
• Shows respect to all members – internal and external
• Honest, reliable and trustworthy in work practices
• Engaging and open communication style
• Resilient
In return, you will be offered:
Extensive training and career development opportunities
Great management support
A modern office with easy to access to transport and shops
An enjoyable team working environment
If you feel that this opportunity is right for you then APPLY TODAY!