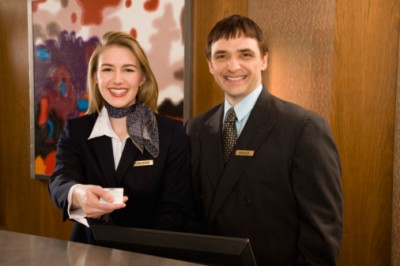 Our client runs a well established community coworking space, and has a maternity leave position available for an experienced Corporate Concierge.
This Concierge role will be a full-time role on a 6-10 month contract. Salary will be  50k-55k plus super and working hours will be 8am to 5pm Monday to Friday, but will vary based on business requirement or any events taking place at the Lounge.
Concierge position will suit someone who has experience in a supervisor or manager role in hospitality (whether it's a café, restaurant or bar) will be suitable and will adapt easily.
You will need to have experience in using a commercial coffee machine and will require a current and valid RSA certificate since we have a bar as well.
You will be responsible for creating memorable and impactful experiences for clients in a collaborative, engaging in workspaces that supports their respective business objectives and goals
MAIN CONCIERGE RESPONSIBILITIES:
• Welcome customers upon entrance
• Cultivate relationships for long term and/or repeat bookings
• Act as the point of reference for clients who need assistance or information and attend to their wishes and requirements
• Understand customer's needs and provide them with personalised solutions by suggesting activities and facilities provided by the business center
• Arrange events, excursions, transportation etc. upon request from clients
• Answer the phone, take and distribute messages or mail and redirect calls
• Conduct tours of prospective clients or liaise with colleagues at other locations to conduct tours when required
• Assist in other ad hoc administration duties, as required
• Report site maintenance issues and facilitate their resolution, as required
The ability to frequently lift and/or move up to 10-15 kilos of office product, supplies, furniture and so on, is essential as is the ability to stand for long hours as required
SKILLS, KNOWLEDGE & EXPERIENCE:
• Proven experience as concierge; experience in customer service or relevant role is an advantage
• RSA License
• Proficiency in English; multilingual is strongly preferred
• Excellent communication skills – verbal and written
• Polite and confident with a great deal of patience
• Ability in multitasking and time-management
• Aptitude in resolving issues with a customer-focused orientation
• High school diploma; degree in hotel management or relevant field will be a plus
• The ability to build strong relationships
• An outgoing personality which makes people feel welcomed and part of a cohesive, inclusive group
• Passion for and understanding of entrepreneurial communities
• Excellent time management skills, with an ability to work autonomously in a busy environment
• Outstanding customer service skills, ideally with experience in co-working, hotel/hospitality or retail
• Knowledge of Microsoft Office packages – especially Word, Excel and PowerPoint
PERSONAL ATTRIBUTES:
• Top corporate presentation and grooming
• Honest and reliable in work practices
• Trustworthy
• Business friendly and shows professional approach