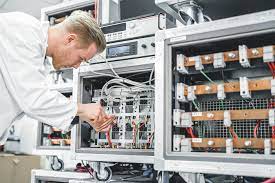 In this busy and exciting Electrician role, you will utilise both mechanical and electrical engineering expertise to maintain and enhance the performance of the plant and equipment.
You will provide first class flexible support to production requirements by undertaking planned preventative and reactive breakdown maintenance, whilst ensuring established health and safety procedures are continually followed.
Duties:
Proactively identify & coordinate preventative maintenance across the site
Responsible for completion of planned maintenance tasks to ensure breakdowns are prioritised to meet production needs
Provide technical support & training to machine operators for basic troubleshooting
Support continuous improvement/project implementation
Investigate plant or equipment deficiencies that lead to out-of-spec finished goods
About You:
Able to work effectively as part of a team to achieve common goals
A proactive and enthusiastic attitude coupled with a great work ethic
You will be a fully qualified Electrical Maintenance Technician with Mechanical aptitude
Experience with mechanical and electrical repairs, equipment failures & fault finding
Able to repair, change and improve machinery while ensuring principles of HACCP & GMP are not compromised
You will have a sound understanding of pneumatic systems, electrical drawings, PLC controls, Variable, speed drives and general mechanical and electrical troubleshooting.
What's in it for you?
An opportunity to advance your skills and capability working alongside industry professionals
A collaborative team environment with a dynamic company in a high-growth sector
We can't wait to receive your application!
We can only accept applications from those fully vaccinated against Covid.