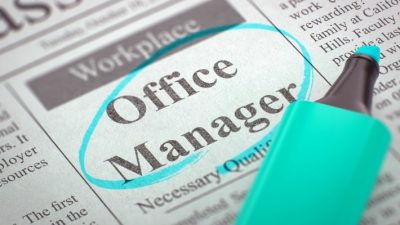 The role of the Office Manager is to provide operational and administration support to Corporate Relationship Managers to the highest possible standards. To ensure that all services are targeted and effective and align with company values.
Key Responsibilities
• Organise and facilitate a weekly meeting with CRM to outline current job tasks and priorities.
• Generate reports as requested by CRM, including reviewing data and reports for accuracy, highlighting any inconsistencies in data with CRM.
• Attend client meetings both onsite and via teleconferences where required (likely ad-hoc, as required by CRM). Take minutes and circulate with all invited.
• Assist CRM with co-ordinating projects as they occur with clients.
• Maintain an overview of the CRM clients and update details as required.
• Assist the bookings team with bulk recruitment drives to ensure client KPI's are achieved
• Initial point of contact for client queries, escalating to CRM as necessary
• Assist with implementation of new sites / job types ensuring that each site is implemented efficiently and in a timely manner.
• Working with CRM to ensure that clients are being contacted agreed intervals as per client management plan.
• Assisting with coordination of CRM diary for quarterly or other meetings.
• Assist with covering sick and annual leave for bookings team as required.
Maintain appropriate office stock (including kitchen supplies)
Internal and external mail deliveries
Greeting guests and visitors
Answer and managing incoming calls
Managing printer support to ensure printer in working order
Managing relationship with building manager
Set up board room for meetings
Experience
• Previous experience in Occupational Health
• Experience working in a dynamic and growing business
• Experience in previous client facing role preferred
Qualifications & Skills
• Ability to work in an autonomous manner with high degrees of operational independence
• Well-developed written and verbal commercial communication skills
• Excellent organizational skills
• Tertiary Qualifications in Health preferred
• Attention to detail in all tasks
• A flexible approach to the role and varying demands
• A polite, friendly and diplomatic manner
• Excellent communication skills, both written and verbal
• The ability to work effectively to deadlines
• Good common sense and logical thinking
• The ability to relate to a wide range of people
Click on the APPLY button to submit both a Cover Letter and supporting CV.
We can only accept applications from those fully vaccinated against Covid.