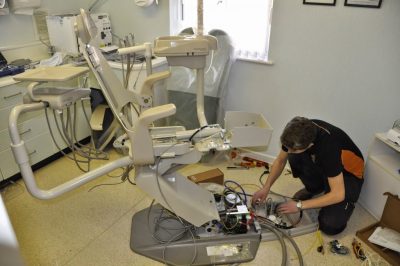 This Service Technician position involves the installation of Dental equipment including the repair and documentation of customers dental equipment and installations of new equipment in the field in customer's premises.
This role also attends to customers at their premises where dental equipment is repaired or serviced. Role is predominantly in the field but may on occasion also include repairs and maintenance duties for equipment sent to the workshop.
Service Technician tasks and responsibilities include:
• Perform repair and installations in the field at customer's premises.
• Perform pre install assessment, including pre install checklist/due diligence.
• Conduct diagnostics for repairs and complete quotes for customers
• Liaise with Administration/CS Officer to ensure jobs are completed and if required follow up and further appointments arranged.
QUALIFICATIONS & ATTRIBUTES EXPERIENCE
• Electronic/ electrical or mechanical background
• Experience with Dental Equipment highly desirable.
EDUCATION
• Trades certificate or equivalent experience
• Industry factory based training highly desirable
SPECIALISED KNOWLEDGE AND SKILLS
• Knowledge of plumbing, mechanics, electronics and electrical motors.
• Knowledge of compressed air and pnuematics
• Restricted electrical license – electrical connect/disconnect license is needed over time.
• X-Ray license will be required to be obtained to meet State legislative requirement
• Computer skills – Excel, Word , Email, PDF files
• Current driver licence
• (OH&S) White Card will be required to work on construction sites of new surgery fit-outs.
Excellent conditions and rewards, and if you meet the above criteria, please forward a current resume.