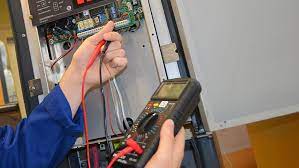 Our client is the global market leader for value-added logistic process automation at airports, and in the parcel market. The company is also a leading supplier of process automation solutions for warehouses. They are now seeking an experienced Electrical Service Techician.
Your position
You will be part of a highly motivated service team who, day to day focus on:
Preventative and corrective maintenance.
Fault finding on automated systems.
Using data analytics to enhance system performance.
Developing your technical skills in Automation.
Providing technical support to our customer
The role is based on a site that is a non-slaughter, meat processing facility. You will be required to follow strict health and safety procedures to ensure that this environment is kept food grade sterile while servicing and maintaining live equipment.
Being a shift based role, you will also be required to work a 12 hour rotating roster of 5 days on, 5 days off. This means working shifts on days, nights, weekends and public holidays when required, as outlined by your roster.
You will also be working in an environment that is operating at 0°C.
Skills and experience:
The successful candidate will have the following:
Trade or Diploma, with at least 3 to 5 years relevant working experience as a Service Technician.
A grade electrical license.
Strong mechanical aptitude.
Displays understanding of controls (including PLC/industrial PCs), electrical/mechanical systems, software and networks.
Intermediate Microsoft Office skills.
Strong written and verbal communication skills.
Experience in logistics, postal sorting or baggage automated systems or food handling facilities.
Living in Melbourne, Australia with a PR or Australian citizenship.
A keen interest to further your own ability and studies.
Honest, reliable and proactive.
Be comfortable with working in a highly sanitised and low temperature environment.
What We Offer You
In this challenging position, you get the chance to work on a significant contribution to the growth and profitability, for an organisation that has been named for several years in a row as 'Top Employer' and 'Best Employer'.  Besides a competitive remuneration package, you will also work on a modern, state of the art facility with onsite parking.
To apply for this unique and exciting opportunity, submit a resume and cover letter.
We can only accept applications from those fully vaccinated against Covid.