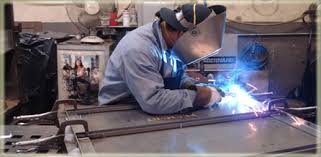 Our client is a national leader in the supply of commercial kitchen exhaust and filtration equipment, and require a stainless steel sheetmetal worker with the following experience:
TIG Welder- Experience preferred with the Fabrication of Stainless Steel associated with
commercial kitchens such as bench work, food cabinets, exhaust canopies, cooking equipment etc.
Operation of brake press equipment. Operation of CNC laser (Trumpf) would be an advantage.
Ability to work in a team environment as well as unsupervised with a real commitment tohigh quality work.
Good communication and interpersonal skills.
Commitment to workplace health and safety.
Ability to work to deadlines.
Benefits and perks
Attractive salary package
Opportunity to implement and grow a team
Diverse work including supporting new product development
Flexible work hours
Great location close to railway, M5 and Kingsgrove shops
Skills and experience
Extensive experience in stainless steel manufacturing.
Ability to read and interpret drawings.
Proven capacity to work independently as well as in a team including coordination with
other trades.
We can only accept applications from those fully vaccinated against Covid.