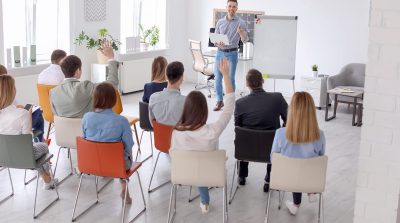 An outstanding opportunity has been created for an experienced Training and Development Manager, in a fast growing professional services business. This is a young, dynamic team, with ambitious growth plans in the coming year.
As training and development manager, you will be responsible for providing support to employees through various types of training. This may include holding workshops to introduce techniques to the entire staff, or working one-on-one with employees to tend to their individual professional needs.
The training and development manager will facilitate the growth of the individual performance of a worker and their ability to work effectively as part of a team. As such, the job may include developing and facilitating team-building exercises to make staff more comfortable and trusting of each other. Additionally, the training and development manager helps with training new employees on company policies and procedures.
Ideally you possess a bachelor's degree in a business-related field or psychology. In addition, since the position involves a great deal of employee oversight, a human-relations background may be preferred. The ideal candidate will also exhibit excellent interpersonal skills and the ability to stay organised even while performing a wide variety of tasks.
 Key responsibilities will include;
Coach and support staff through operational changes and supervision issues.
Create, refine, and disseminate training manuals and other educational materials.
Prepare training budget and evaluate instructor costs and performance.
Support performance management and review process for supervisors and employees.
Lead and evaluate training programs, orientation, and personnel development.
Facilitation
People Management
Training Program Development
Team Leadership
Professional Coaching
Organisational Development
Profiling
Process Improvement
Excellent conditions and salary plus phone and laptop.